Under 15 J G Craig Representative Team
The Ormond Cricket Club extends an invitation to any under 15 cricket players to attend our series of selection trials for the J. G. Craig Competition (formerly the R.M. Hatch Competition).
The selection trials are held at the E E Gunn Reserve nets located at the end of Foch Street in Ormond. The training dates are as follows: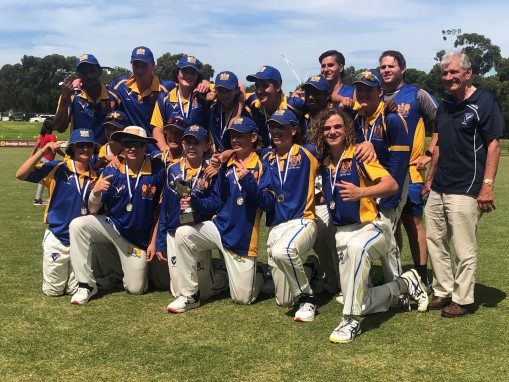 Monday August 30, 2021 - 4.30pm to 6pm
Monday September 6, 2021 - 4.30 to 6pm
Sunday September 12, 2021 - 2pm to 4pm
Sunday September 26, 2021 - 2pm to 4pm

Each year the Victorian Sub-District Cricket Association (VSDCA) runs the J.G. Craig Competition for Under 15 cricket players. It is recognised as the premier Under 15 cricket competition in Victoria and is conducted in January each year. Games are played on the professionally prepared turf wickets of the 32 Sub-District Cricket Clubs around Melbourne and to be eligible to play in the 2022 competition, players must be under 15 years of age as at the 1st September, 2021.
The competition was known as the R M Hatch Competition for more than 50 years but in 2014/15 it was re-named the J G Craig Competition after Ormond and VSDCA legend, John Craig. John scored more than 7,000 runs in the VSDCA and was part of 6 premierships at Ormond. As such, the club has a special connection with the competition and the club has enjoyed incredible success in the competition over recent years having won in 2007/08, 2016/17, 2017/18 and 2020/21. We were also runners up in 2008/09 and semi- finalists in 2005/2006, 2006/2007 and 2013/14. The club was also quarter-finalists in 2010/2011.
We have historically fielded a team that is a combination of the best current Ormond junior under 15 players together with juniors from other metropolitan clubs in the south eastern suburbs of Melbourne plus country Victoria.
The Ormond J. G. Craig Representative Team is coached by experienced senior players, Michael Cove and Miles Sellenger.
Training Schedule is as follows:-
Monday 1st November, 2021 - 6pm to 8pm
Monday 8th November, 2021 - 6pm to 8pm
Monday 15th November, 2021 - 6pm to 8pm (Main oval)
Sunday 28th November, 2021 - 2pm to 4pm
Sunday 5th December, 2021 - 2pm to 4pm
Sunday 12th December, 2021 - 2pm to 4pm
Sunday 19th December, 2021 - 9am arrival for 10am start (practice match, information night and BBQ)
Christmas/New Year Break
Wednesday 5th January, 2022 - 8.30am to 10.30am
Thursday 6th January, 2022 - 8.30am to 10am
J. G. Craig Shield – 2021/22 Match Schedule for Ormond Team
| | | | | |
| --- | --- | --- | --- | --- |
| Round | Day/Date | Home Team | Away Team | Venue |
| 1 | Sunday 9th January | Ormond | Brighton | E E Gunn Reserve (main oval) |
| 2 | Tuesday 11th January | Ormond | Caulfield | E E Gunn Reserve (main oval) |
| 3 | Wednesday 12th January | Elsternwick | Ormond | Elsternwick Park Oval #1 |
| 4 | Thursday 13th January | Ormond | Oakleigh | E E Gunn Reserve (main oval) |
| 5 | Tuesday 18th January | Malvern | Ormond | Malvern Cricket Ground |
| 6 | Wednesday 19th January | Moorabbin | Ormond | Moorleigh Community Village Reserve |
| 7 | Thursday 20th January | Ormond | Port Melbourne | E E Gunn Reserve (main oval) |
| Quarter Final | Tuesday 25th January | | | |
| Semi Final | Thursday 27th January | | | |
| Grand Final | Sunday 30th January | | | |
The objective of the selection trials is to:
Select a Competitive Squad of 13 Players
Provide Quality, Supportive Coaching from Suitably Qualified Coaches
To give the players an opportunity to play on quality turf wickets.
The final squad will be finalised and announced in the last trial session and they will then participate in a final pre-Christmas training session on Thursday December 16. Training will resume in early January with the date to be confirmed. Please note that players who are selected must ensure they are available for all matches (see right hand panel) including finals.
We welcome all eligible under 15 cricketers to attend our selection trials. They should attend and assess whether their skill levels are comparable to those of other players at the trials. The final squad will be selected on ability not age.
Matches are 40 overs per team and games start at 10am and finish at 4.20pm with a 40 minute lunch break scheduled from 12.50pm. Ormond competes in the South Group against Brighton, Caulfield, Malvern, Moorabbin, Oakleigh, Port Melbourne and Elsternwick. After the 7 preliminary rounds, the two top teams in the group progress to the quarter finals where they play against the top ranked teams of the North, East and West Groups.
The club offers excellent training and match day facilities with the final squad members receiving a team playing shirt, shorts and cap. Players are to provide their own cricket gear, drink bottle and sunscreen. Transport to and from matches will be organised for the players and we are conscious of the disruption to family holidays. Our objective is to give every player in the final squad a "fair go", however, we will not pursue this objective to the detriment of the more talented players as this tournament is recognised as part of the Victorian Cricket Pathway Program.
Safety
All batsmen and wicket-keepers must wear helmets both in practice and in matches. In addition, fielding restrictions apply with no fieldsmen (other than those in the slips cordon) fielding within 11 yards of the batsmen.
Training Attire & Equipment
White playing shirt (preferably club shirt) or club training shirt
Navy or black shorts or club shorts
Rubber-soled cricket shoes
Hat (club hat or white cricket hat – no other hat is allowed).
Drink bottle
Cricket equipment (bat, pads, gloves, etc)
For more information contact our Coach:
Miles Sellenger 0466 665 165 or jgcraig@ormondcc.com.au
HATCH/CRAIG COMPETITION – ORMOND'S STORY
The competition first took place in 1969 during the Christmas school holidays and was named after a former VSDCA president, Ron Hatch. The competition name was changed to the JG Craig Trophy for the 2014-/5 season, an honour that recognised the contribution of John Craig to Sub District cricket including his roles with Ormond. The other significant rule change occurred for the 2005/06 season when the age group was raised by a year from an Under 14 competition to become an Under 15 competition.
Ormond's first season was quite successful reaching the semi final where the side was defeated by Waverley who in turn were runners up to Sunshine. Peter Gardner was the first captain and his father Les along with Life Member Graham Lees took charge of the team.
The second season saw Ormond and McKinnon CC boys combine to form the Hatch team. Ormond's home games were played on the outside ground. Steven Smith and Norm Ray both featured in this year. Geoff Cowen and Michael Walmsley looked after this team. A similar situation occurred the following season when John Pinches and Graham Lees were the coach/managers.
The next decade saw minimal club involvement. For the next three seasons Ormond did not field a team as the club could not source a coach and manager to lead the team. When the Hatch team reformed in 1974/75 it was only for two seasons and again in conjunction with McKinnon. From 1977 until 1981, Ormond did not participate.
In 1981 Ricky Jackson was team captain and with Mark Johnston also in this side. For the next 14 to 15 years a core group of off field support developed around the Hatch teams. Charles Rogers, John Robertson and Mark Carracher were at the centre of the club's support. First eleven player Jim Nicola went from specialist coach to the overall team coach and kept up his involvement even after finishing his playing career. Throughout this period Beryl and John Craig along with Ken Saddington would also be available to help on match days. This commitment gave the Hatch program much greater stability.
Despite this, during the early 1980s Ormond struggled to field teams with local talent and relied on the connection with former player Fred Wormsley who arranged for several boys from the Frankston area to join the Ormond team. This occurred for up to three seasons.
On field finals success during this period was limited to a quarter final loss to Croydon in 1984/85 and in 1995/96 the team reached the semi final after a last ball tie against Box Hill in the quarter final. In the semi final Ormond went down again to Croydon. In this team future captain coach Simon Beshara was a member. Other notable players to play for Ormond during this period were Peter 'Pepe' Harper who went on to represent Victoria and win the Premier Cricket Ryder Medal and Ben Coates who was the South Group best player in 1992-93.
The stability continued with Ian Hewett's appointment as coach in1996-97. For the eight seasons in charge, Ian's teams were generally very competitive and provided a consistent pathway for future senior and ultimately Ist XI players. For much of this time Ian was supported by John Craig, Simon Beshara and scorer Geoff Cowen. In a five year period from 1997- 2001 four times Ormond finished second in the South Group to reach the quarter finals. Once they faced Melton away and on three occasions over four seasons the team faced Coburg at Coburg. Unfortunately all these finals resulted in losses. Players who represented Ormond during this period were dual Brownlow Medal winner Chris Judd (1997), club championship winner Ollie Thursfield (2002 & 2003) and his brother Will (1999), future Craig premiership coach Michael Cove (1999) along with Ist XI players Anthony Meyer, Stewart Kimpton, Tristan Larter and Matthew Hine. Captains included Simon Croft, Ryan Heyward, Trent Zimbachs, Nick Wanless and Paul Gould.
Simon Beshara who had an already impressive record coaching Ormond's junior team became coach in 2004. He was supported throughout by team manager Graeme Hyman and later assisted by Alex Davies. Tony Marshall was often the scorer. In his first season as coach the team reached the quarter final stage. Jason Croft was captain and future Frankston Premier Cricket batsman Ben Clements won the South Group best player award. Over the next three seasons the sides were always competitive winning at least half its matches and in 2006-07 played a losing semi final against Box Hill. Several players from this three year period went on to represent the club's Ist XI including club championship winner Christo Otto, Dylan George, Jack Singleton and Lloyd Everett. Due to the raising of the age group to Under Fifteen, Peter Sofra was captain for two successive seasons.
The first Hatch premiership was achieved in 2008. Undefeated in its six group matches Ormond defeated Oakleigh in the semi final and met Broadmeadows in the Grand Final. Played at Ivanhoe and captained by Brad Wilson, Ormond batted first and led by Ben Boyle's half century reached 167. Broadmeadows in reply were cruising at 1/100 but some outstanding fielding, catching and 'death bowling' saw Ormond win by just four runs (8/163). St Kilda footballer and prospective NFL punter Arryn Siposs was a member of this team. Wicket keeper Tom Cameron and Wilson soon went on to become Ist XI players.
Following reaching his 'summit' Simon Beshara retired from Hatch coaching and Darren Stait took control of the Hatch progamme for the next seven seasons (2008/09- 2013/14). In his first season, Ormond after winning its first five games and comfortably defeating Croydon in the semi final again played Broadmeadows in the Grand Final. Despite Arvind Krishnamoorthy's 49 and three wickets in a man of the match performance, Broadmeadows were the victors by sixteen runs (164 to 148). The captain was Tom Cameron and together with team members Sam Blandford and Sam Stait all three went on to represent the first eleven. The following season did not achieve the same success as the quality of players was not as strong.
Three further finals' appearances occurred in 2011, 2013 and 2014. In 2011, in a team captained by Ken Speake and with future senior players Jonty Sharman-Smith, Matt Jordan and Washington Park's Nick Oaten, despite two washouts in the Group Section rounds, the boys finished second but lost the quarter final to Croydon. The 2013 team won five of its six group matches to finish on top but lost the quarter final in the final over to Endeavour Hills. In 2014, captain Ed Newman was the South Group's highest run scorer as the team won five matches and tied against Kingston Saints. In the quarter final Ormond ran into a very strong Oakleigh team which went on to be premiers. Two time Hatch players Ben Paine and James Van Oosten, along with Lachie McCambley and Remi Hudson played in this season.
One of the strengths of the program was the additional support coach Stait had from other club members and the opportunities he gave young senior players to contribute in assistant coaching roles. Life Member Steve Ambler held the manager/scorer role for much of this period. Sam Kindlen, Ben Cameron and Jonty Sharman-Smith were among those to assist Darren.
In 2015 Michael Cove was appointed coach for the renamed JG Craig Competition. In this season the leading batsman and captain was Ben Paine. The team defeated Brighton, Kingston Saints and Malvern and lost to Moorabbin and Caulfield with a wash out against Elsternwick. Greg Paine was team manager and Michael's assistants were Nick Oaten and Will Robertshaw. The following season saw the Craig team split its results with three wins and three losses. The captain was Campbell Lord and team members Tom Buchanan, Brett Poll and Alex Riley all subsequently played 1st XI cricket.
The 2017 Craig team won the club's second premiership in a sustained display of dominance. The low scoring opening game against Oakleigh plus the Grand Final against Balwyn were the only occasions the team was challenged. Scores of 3/273 against Caulfield and 2/280 against Malvern were outstanding. Coached by Michael Cove and assistant Will Robertshaw, managed by Pat Camm with an excellent captain in Campbell James, this squad was loaded with talent. Rory Freeman with two centuries (172 no and 105) totalled 459 runs at an average of 65.57. His 172no against Caulfield smashed the previous record for the competition's highest individual score.
It was back to back premierships for the JG Craig team in 2018. This team also went through the competition undefeated stretching the winning run to eighteen games without a loss. There was only one match which troubled Ormond, a very close game against Moorabbin in which both sides were nine wickets down with only six runs separating the teams. All other matches were won easily. Ormond regularly scored well over 200 runs and on four occasions dismissed its opposition for under a hundred runs. Oakleigh was bowled out for 25 and Altona in the semi final was all out for 35. The Grand Final was reduced to a 30 over per innings due to 40 degree heat. Kew's 7/123 was competitive but Ormond's top order made light work of the chase being only two down with five overs to spare. Jonty Wiseman was a fine captain and two batsmen, Angus Newman (439 runs at 62.71) and Jordan Hesline (446 runs at 55.75), were exceptional. Hesline also took 17 wickets and was well supported by Declan McComb and Reilly Mark each with 14 wickets. None of the five main bowlers averaged more than 9.5 runs per wicket. This was a second triumph for coach Michael Cove and manager Pat Camm and the club's third Hatch/Craig premiership.
The 2018 team had considerable pressure to live up to in order to maintain the incredible winning streak of recent seasons. After winning the first three games, Ormond suffered its first defeat for three years when it went down to Brighton. A further very close loss meant the side eventually missed the finals on percentage. Captained by James Keys, the batting award went to Matt Langerfields and the bowling award to Mitch Wolters.
Following a Round 1 wash out, the 2019 Craig team suffered a shock loss to Moorabbin. The side had to win its remaining games to contest the finals.This the side did finishing with the highest percentage of the twenty eight competing clubs and coming second in the South Group. This pitted Ormond against East Group leader Bayswater. Disappointing scheduling by Cricket Victoria meant several Ormond players had to miss this match yet Bayswater's state players all could play. Captain Lewis Sellenger was selected in the Victorian Metropolitan U15 squad and vice captain Xander Buxton captained the Victorian Country team which went on to win the National U15 tournament.
Over this recent period, it was rewarding to see a number of former Craig players, Miles Sellenger, Bailey Moon, Zac Sleeman and Matt Dolan selected in the Victorian U17 team. Miles was captain. Bailey and Zac were chosen to represent an Australian XI in the U19 Championships. Zac and Bailey had now represented Monash Tigers (Richmond CC) in the 1st XI and Miles Sellenger had achieved this with St Kilda CC.
For the past twelve years Ormond's Hatch/ Craig teams had created an outstanding record of success in a twenty eight team competition. There were three premierships, a runner up, two semi final and one quarter final appearance for the club.
As well as producing quality players, Ormond benefited enormously from the stability, persistence and quality of its team coaches. Over the past twenty plus seasons Ormond has had only four coaches Ian Hewett, Simon Beshara, Darren Stait and Michael Cove. Each of these men have developed excellent programs for the club's Hatch/Craig teams and have been well assisted by various club members. The club has always supported this competition as a priority for developing young talent.


2017

2018

2021